---
History of obsession
My obsession with Australia began when I was 14 years of age, on a sunny afternoon when I walked into the local branch of Qantas Airways in Zurich, in an attempt to get free material about the country for one of my school projects. I was very successful and walked out with a bag full of goodies and a tube full of posters.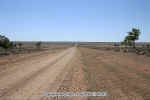 This experience made things only worse, so to speak. I knew about its "being different" from before - geography was one of my favorite subjects; the distance and kangaroo factor certainly made things only more mysterious. My first "real" book was a thick travel book about Australia with bazillions of prime class color pictures. Through high school my obsession faded only a little bit; now, 16 years after I got them, my room at home is still full of the original Qantas posters (7 pieces on last count). Admittedly the last time I "lived" at what I call "home" was in 1990, but still.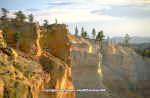 There is one major problem with visiting Australia the way I would want to do it: it's "down there" - they have winter when we have the long breaks. And of course the money factor, but that's barely worth mentioning for a college student. So after I came to the US to study I started exploring the "local" continent because it was closer, and I ended up putting 80,000 miles on my car in less than three years. Travel Stan's style - in America or Europe - means filling the car with a tent, sleeping bag, stove, a huge photo bag and the leftover space with boring things such as socks and rain protection. Then I am ready to depart for two months or at least as long as I can. During the school year, scheduling classes so that I have a reasonably long, 4-day weekend every week, was a necessity.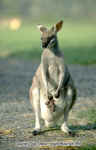 However, Australia was still undiscovered. It's not suitable for a weekend trip, nor for a single week for that matter. Usually, I try to do things right or not at all, and there was simply no time for a 4-month trip across the often forgotten continent. Besides, I always said that for Australia you need that 300mm/f2.8 lens, and that just really happens to be out of my budget.
Sadly (?), graduation from Stanford was approaching and along with it the perspective of working for some random US company on two weeks annual vacation (even then, one can arrange for some - in my case involuntary - extra vacation, as you can see). Naturally, in the computer business things are a bit more flexible [or not, as I had to discover later], but still, it just ain't the grounds for a "real" visit of Australia. So it came that in November 1996, I made the decision to spend my last spring break on a "scouting mission" in Australia; collecting some brief first-hand experiences to be better prepared for the "real" thing, so to speak. It so happened that I forgot to tell any of my relatives or European friends about it - this is my trip, fellows. Although I am usually well prepared from reading books, www pages and private conversations with globetrotters, surprises such as in Scotland shall be better avoided when I go "for real".
In December I approached my professors begging for early finals in Winter quarter, ready not to take a class if the final was late - but I got what I wanted: four finals on one day. Ok: three finals and one presentation - still all within a 14 hour period without a break. An early departure, mixed with an arrival of 10 days too late for the final quarter, gave me a net stay of 20 days in Australia. Equipped with tons of film and a total of five cameras - ranging from a point-n-shoot over to a 4*5 view camera (which I borrowed from the Stanford Art Department, begging for it and bribing the head professor) - Australia, here I come!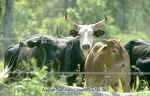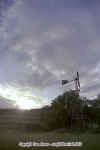 Early in January I did some research about where to go during my intended visit - and everyone agreed that New South Wales and Queensland were appropriate. So I wrote a check for precisely $1234 and bought a ticket to Sydney - I wanted to do something for my Delta frequent flyer account by flying Air New Zealand (back then, they had a joined FF program). I also slightly upgraded my photo gear, bought the biggest photo bag to fit it all, and added 50 rolls of slide film to it. It did not take too much of convincing efforts to swing a trade with my friend Rebecca: Toto in exchange for The Green Monster. Toto is her PowerBook, an absolute necessity for the writing of travelogues; he's a boy with character, as his mouse pad thinks it's being pressed more often than I like. The Green Monster used to be my Accord (also with character, most notably the lousy to dangerously inappropriate brakes), and so it happened to be green (like my photo bag and ah so many other things - I am obsessed with that color, especially since moving to California and seeing so little of it). While I tried hard to get some friends to come with me, the fact that I was leaving at the beginning of finals week and coming 10 days late made all politely turn down my offer - with more or less creative excuses. Last minute research on the Internet brought about 7 replies from Aussies who politely called me nuts for going to NSW and QLD instead of the Northern Territories. I must have been listening to the wrong people earlier last year, it seems... Oh well, the ticket is booked, the car is paid for, we've gotta go. A visa was obtained within 4 minutes including waiting in line from the Consulate General in SF, and so there was nothing more in the way.
There I was at SFO International, with a big bag full of tripod, tent, stove, sleeping bag and a car power adapter for Toto; another suitcase full of film and the mandatory socks, plus the aforementioned photo bag. It caused some skeptical looks by the security personnel at the X-ray machines, both due to its size and content. They really thought my dust gun was plastic explosives!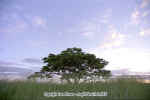 I am certainly not the most frequent flyer, I don't quite make medallion level yet (what changed for 1999, 2000, 2004 and 2005); however, I did fly a total of 70,000 miles within the past 9 months (96-97), most on Delta, Swissair - or now, Air New Zealand. When I boarded this airplane I felt like they gave all of us a free business class upgrade by accident: the leg room is more than in a Mercedes E class (or Swissair business class). I could sit cross-legged with plenty of space left. The seats have a built-in retractable head rest for better sleeping comfort. Also, the plane was pretty empty, so I had a whole row of seats for myself - sleep deprived as I was I knew to value this. With all due respect, Swissair, why do you feel ah so special? Or the other airlines, for that matter? Somehow I was torn between my loyalty towards Qantas for infecting me - it felt almost mandatory to use their services for my first trip to Australia - and my loyalty to my frequent flyer account. Now I don't regret my choice for a single second - this is best flying ever. The friendliest crew of all airlines (with a surprising number of male attendants) served food with real glass and dishes and made the 14 hours literally fly by (sleeping pills help here, too).
This is a travelogue in 13 chapters describing my 21 days on the road; the chapters are short and full of illustrations, except for the first and last one. They are written the usual "Stan way," in case you happen to know what it means. You will find out which things went a different path than originally thought...
Hope you enjoy, and let me know what you think! Since at the time of this travelogue being posted I am in the "working world" with little to none life and/or vacation, only the Gods know when my next travelogue will show up...
---
Home
Up
STS-400 Dual Pad
STS-126 Demate
Devils Tower 2008
Tanzania 2006
STS-121
Antarctica 2004
Honeymoon in Peru - 2003
Maine Foliage
Europe - Summer 2002
7k in 3 Weeks - 10 Mountain & Pacific States '01
Big Island of Hawaii
Arizona 2003
Paris Sous La Pluie
Owls in Minnesota
Yellowstone 2003
STS-93 Shuttle Launch VIP Viewing 1999
STS-99 Shuttle Launch VIP Viewing, 2000
STS-101 Viewing from the Press Site
Bryce, Zion, Yellowstone 1998
Scouting Mission to Australia 1997
Adventures In Scotland 1996
Korea 1997
The Arizona, New Mexico Trip 1996
The Mono Lake Overnight Trip 1996
---