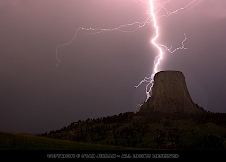 I am married with children. That's quite a change from not so long ago, and a scary thought for many, myself at times included. I am married to the probably most understanding and tolerant woman ever, who lets me take off to Africa or on Space Shuttle related trips, while she takes care of the kid(s). She knows perfectly well that I like the SF Bay Area about as much as a visit to the dentist (sorry Dr. Chiu, nothing personal), and that after a while of being stuck at home I get antsy for a trip. So when she proclaimed that she would attend a cousin's wedding back home in San Diego and would take the kids with her for two weeks, my first thought was "field trip!!". Unfortunately, soon I realized that she'd be gone the week of, and before, WWDC - our 2nd biggest show of the year, when I am supposed to make two presentations - crazy times.

On the other hand, while I could obviously not go the week of the show, the week before was the week when, as my boss' boss put it, the project would be finished and we would be flying helicopters in the hallway, as we did when iPhone 1.0 went GM. So what better time to take a week long vacation? Naturally, things go a bit different in this business, but that didn't really matter all too much to me - I needed my vacation, and this is the time when the ladies were gone. So where does a guy who's been to all 6 continents and 46 of the US states go for a week? As my wife and some friends would attest, I have some crazy ideas. For a few years now I've been threatening Paul and Jonathan that one day I'll drag them camping to the Devils Tower (which I have visited on two occasions before, in 1994 and 2001) to shoot a lightning storm. Something ominous about that "stumpy thing" (as my pal Ariel put it) sticking out of the night landscape, illuminated by lightning bolts. At least that's the picture I always had in my head. Later this threat of a camping trip included taking Rachel with us, so that we would not look totally gay. But I saw that my two friends would flake out anyway, so that I would have to go alone. I honestly didn't want to subject any non-photographer to what I knew all too well the trip would be like.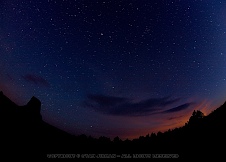 This way it happened that I booked a flight to Denver, with a week for a scenic round trip to the Devils Tower. Hernan was not only stuck with my bugs but also with me and my luggage, as he foolishly volunteered to get me to the airport. While I was picked out of the security line like always, my karma must have improved since last time, as the TSA guy was very nice and - shocker! - pretty much afraid to touch the gear in the photo bag. Not only that, but my A20 boarding ticket to the Southwest cattle carrier got me on the plane as the first person, since the folks A1-19 were nowhere to be found. Go figure.

Riding shotgun I could talk to a young guy named Jay sitting next to me, and occasionally ogle Michelle who was definitely easy on the eyes as she was serving the mandatory drinks. With Jay we talked about the iPhone, NASA (for which he indirectly works), the dislike of flying or anything high (me) and the love of flying or anything high (him).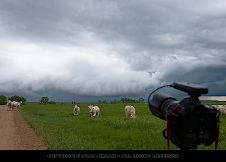 In Denver, my good karma continued: my bag was #5 on the conveyor, and I arrived at the National rental car office just as Alexander, a friendly Russian guy who may have been a body guard on the side, was closing the "Open 24 hours" facility for the night. I was told to pick any car in the row labeled "Intermediate", which had pretty much everything in it ranging from the promised / threatened G6 to a surprisingly large number of minivans. Never considered these to be intermediate... I immediately zeroed onto the red Golf, and made myself at home. When I was about to load my stuff into the trunk I noticed the California plates, which was a deal breaker. Walking past a Yaris, Corolla, and numerous unidentifiable GM products I made my way to a G6, as I had always expected. I tried to make myself comfortable, but I simply could not. I am no giant, nor are my legs particularly fat. Yet with the steering wheel at its maximum height and the seat at its natural distance, I could not fit the girth of my legs into the available space. So back to the Corolla I walked, and we soon became friends. Two power ports and an Aux input for the radio were clearly a plus.

The airport exit (and then the way to I-70) is about as well marked as things are in Sydney, or at least the way they were before the Olympics: maybe good enough for the natives, but WTF? Paul's GPS was still in the bag, and the "locate" feature on last year's model iPhone decided to act up just when I needed it most. Once unstuck, the maps (courtesy Google) were at times humorous, with freeways simply ending in the middle of nowhere, so I had to follow my instincts. I made it to the motel in one piece, and so tired that I didn't much notice the mariachi band droning from the room next door...