Brisbane to Lamington NP
or: I wish I were a Koala
---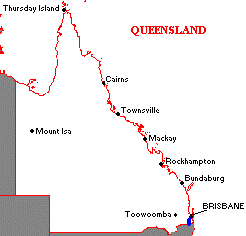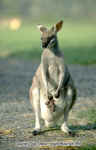 I was the first visitor of the day at the Lone Pine park, standing at the gate at 7:30 in the morning, "when the light is best", explaining to the employee. And when it's not so darn sticky, I should have added. Soon I was looking at a huge number of incredibly tired Koalas, hanging in strange ways in the trees. 19 hours of sleep per day must be very stressful. Not far away the occasional Emu grunted and the Kangaroos hopped by. After another round through the park, the Koalas were exactly as active as before, only one of them shifted position into something even more comfortable, in a way that a cartoon character could not have done it better. In one of the smart books I read that a Koala spends "19 hours resting or sleeping, 4.5 hours eating, and 30 minutes with social activities, such as changing trees."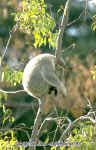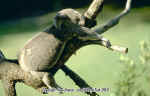 Around noon I left the place as all animals were even more tired than in the morning and this was unlikely to change before sunset, and I didn't want to spend all day here after all. So I headed to the city instead, where I bought the mandatory postcards and ate some good foods. Brisbane seems to be quite a livable city, not too big and rather clean, but since I am after anything but cities on this trip I left after only a few hours, heading south, away from people again. I crossed some mountains on the way to the Lamington National Park, where I found a full campground and a bug in the map - the road is a dead end into the park, not a through road.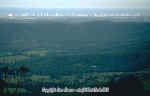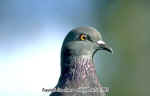 This realization and the fact that it's about an hour's drive out made me pull into the first bay into the super thick forest, just a couple of meters away from the (only) road, where I successfully wrote all postcards and even read the first section of Clarke's "Cradle"; I must say, Clarke's books are the best SF literature, but please get rid of Gentry Lee, he makes things really slow and boring, full of unnecessary social and technological detail which will be ridiculous in a decade anyway (almost like Knight Rider's KITT talking to David: "I have 32KB of RAM").

---