After 7 years of planning, or at least serious intentions, I finally decreed that 2004 was the year to go to Maine in the fall, to enjoy the coastline and fall colors. Every year so far something has come in between the intent and the execution of the plan; this year, 50,000 miles were traded for two tickets to Portland, Maine, and off we were.

This was the first time for both of us - in more than one way. Despite having flown over 250,000 miles, it was my first experience of an aborted landing when the pilot pulled through just before touching down in Chicago. As he later said, we came too close to another airplane, and so we added a 20 minute loop to the already long 4+ hour bistro service flight. And, 20 extra minutes before we could sit down at the by now traditional Panda Express - Gourmet Chinese Fast Food, if there is such a thing.

At the Hertz counter at the quaint Portland airport I was source of Essan's amusement and bewilderment once again, when I appealed the Toyota Corolla that Hertz picked for us. I reserved a midsize car, Mazda 6 or similar, as it says. Now what bright head decided that a Corolla was in the same category I don't know; both girls at the counter insisted that it was and that it's done based on the car's price, which is when I suggested they bought a car magazine and looked up some facts about both cars. With that I bought an upgrade to a Taurus, and we went to look for our motel. This gave us the first opportunity to experience the toll roads, something quite unusual to us Californians. On the other hand, if 101 were a toll road maybe it would be in better shape and less crowded.

...

Jet-lagged, we didn't go to sleep until well after midnight. We still got enough rest for the trip to begin...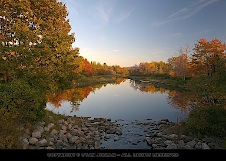 ---
Lived Lobber (n): During my days at Stanford, we (hello Lee Hayes!) used to go fairly regularly to Kirin Restaurant, 6135 Geary Street (between 25th and 26th Ave), San Francisco. It has since been closed by the SF hygiene overseers, has changed ownership twice, and the cuisine has gone downhill (at least as of my last random sampling in 2000); but in the early to mid 90s it was absolutely worth the weekly trek. Their Mongolian Beef and Hot & Sour Soup are to date unparalleled, and their menu featured quite a few spelling gems, among them Beff and - well, Lived Lobber, probably referring to live lobster.