Stan's Spontaneous Trip To Mono Lake
or, taking pictures without film
Last modified: November 25, 2004
What's up with these nasty copyright notices?
---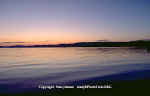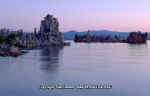 It was a cold Friday evening, I was working on my senior project (a file system for a DDS drive) which was due in two week's time. Or better, I was not working on it and was rather thinking about how to waste my time.
At 10pm I made the decision that I would likely waste the night and the following day anyway, and so I grabbed my photo bag and other equipment and headed east. I knew it was a long trip. What I didn't think of was the fact that it was Friday night and that I had no food on board. However, I was well aware that I had only two rolls of slide film, four sheets of color 4*5 and six sheets of b/w 4*5 film. At this time there was no place to get new supplies though. It simply had to last.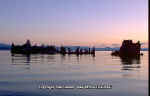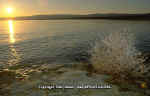 I headed to the lake through Yosemite, over the Tioga pass. What I didn't think of was the possibility that this pass would still be closed. Well, it was. Once at the west entrance I was greeted by a sign telling me the bad news. So I had to drive around Yosemite, a detour of about 200 miles from my current position.
I arrived at the lake just before dawn. I haven't eaten in 12 hours, but the view was more than a fair trade. Just around sunrise I was running around taking pictures with both my EOS gear as well as the borrowed 4*5 camera.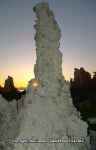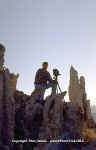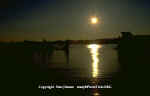 Given the fact that I was very tired, it was little of a surprise what kind of mistakes I made. Simply put, the pictures of that trip were quite a loss, because I was metering the exposure for the 4*5 with my 1N. The ISO in the 4*5 was 100 or 320, that in the 1N was 50... You can imagine what happened. At any rate, the sunrise was spectacular. Around 6am I saw more and more people with cameras, some of them mad for missing the real action. With the crowd at the lake growing, I left and headed for the nearest food store. The only problem was that there was none, at least not an open one. So I headed south to Bishop, which is quite a distance. Before that I drove towards the Tioga pass; the green-ness of the nature there was very non-Californian, which made me very happy.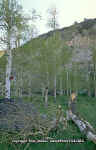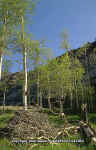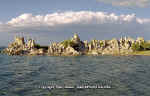 After lunch in Bishop (where I bought enough food for the rest of the day), and a 3-hr nap in a nearby forest, I headed back to the lake for the sunset. At that time a huge number of photographers has already taken the lake hostage. It was interesting to watch some people equipped with a $3000 camera and a $300 zoom lens. However, I was not the only large format shooter. A guy from San Diego, who has traveled all around the world already, was shooting in 4*5 and 6*7 formats. He stayed overnight to capture the sunrise the other morning. Unlike me, he had huge supplies of film for this camera - I had run out of film just around sunset, even though being very economical throughout the day.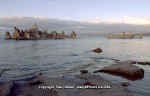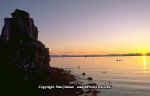 After sunset, I left heading home. With my usual driving style I arrived at Stanford at 1am. My neighbors were quite surprised to see me back that quickly. They were less surprised when I immediately crashed in my bed and slept for some 12 hours the next day.

---
Email Stan
Home
Up
STS-400 Dual Pad
STS-126 Demate
Devils Tower 2008
Tanzania 2006
STS-121
Antarctica 2004
Honeymoon in Peru - 2003
Maine Foliage
Europe - Summer 2002
7k in 3 Weeks - 10 Mountain & Pacific States '01
Big Island of Hawaii
Arizona 2003
Paris Sous La Pluie
Owls in Minnesota
Yellowstone 2003
STS-93 Shuttle Launch VIP Viewing 1999
STS-99 Shuttle Launch VIP Viewing, 2000
STS-101 Viewing from the Press Site
Bryce, Zion, Yellowstone 1998
Scouting Mission to Australia 1997
Adventures In Scotland 1996
Korea 1997
The Arizona, New Mexico Trip 1996
The Mono Lake Overnight Trip 1996
---