It's an open secret that I don't like California all that much: it's boring, at least from a photographic perspective. Contrast that with Yellowstone: beautiful during any season. Been there four times so far, and wanted to go again to get a photo fix. My wife suggested that I go alone, to spend some quality time with my camera. So I did, for the last weekend of September, padded with one day on either side. This is a good time to go, I thought - there will be some weather, fall colors, mating elk, and fewer German tourists.
After arriving in Bozeman around midnight I was greeted by the Hertz guy, who was intrigued by my Stanford sweatshirt. He mentioned that he is considering going to the Stanford Business School. He also mentioned that he didn't want to go to Berkeley to study law (our conversation was somewhat twisted), because Berkeley was a bit too liberal for his taste. Judging by most things in Bozeman, not a surprise.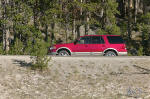 I did get a surprise when he told me that I have received an upgrade: instead of my reserved Ford Escort or similar, I will enjoy a brand new 2003 Ford Expedition, as that was the only "car" they had still left. Thank you - I guess. The Expedition's "trunk" is bigger than a whole Escort, so loading my camera gear and tent would be no problem, and one can indeed comfortably sleep on the back seat; however, I will also get to feed this monstrosity.

The Safeway in Bozeman closes at midnight (or before), so I had few options with regards to shopping. At a gas station I acquired some chips, cookies, and lots of water, and headed to West Yellowstone. I remember that this brand new 2003 Expedition was praised by Motor Week to be this incredible breakthrough in truck design, that it cornered like on rails, etc. Admittedly, I was very tired, but I did find it scary to be going through turns much faster than 40 mph. So I guess revolutions are relative: In that case I am only glad I didn't get the old Expedition.

The road was full of Bambis, who didn't really seem to care much about the sparse traffic. I guess both the Bambis as well as me were fortunate that I was driving this tank - good for Bambi because I was moving rather slowly, and good for me because in case I didn't manage to avoid Bambi in time I probably wouldn't even notice. Somehow I got the feeling that it's not just Bambi who is the occasional victim on the road, as Highway 191 was decorated with multiple white crosses all the way, usually in groups of three to five, and roughly equally spaced maybe once a mile. And I thought the Californians were bad.

I forgot the FM modulator for my iPod, so I was stranded with the one AM radio station for truckers - and even that one has pathetic reception. Still, I needed something to keep me awake, but in hindsight this station may not have been the best choice to get this job done. I did get to learn a lot about and from truckers, though, which some day will be of great strategic importance to me, I am sure.

I arrived at the gates of Yellowstone just before 2am, and not surprisingly there was no ranger asking for the $20 entrance fee. So I entered for free, and headed to a place I knew from my previous four visits, with the intent to use the morning light for photography. With that I unwrapped my sleeping bag and found the rear bench truly restful. I would need all the rest I could get for the next four days.