September 28
Camping with Bambi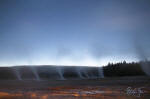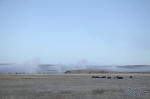 By the time the alarm clock went off I was already by the Fountain Paint Pot taking pictures of the stars above the foggy plains. It was very cold and so I decided to wear my gloves. At this point a honorable mention goes to my dear wife, who kindly packed my gloves when I called her from work, as she was still at home. She packed two left gloves, hers and mine, even neatly tied together with that baby carabiner, you know. Thinking that one glove was better than nothing I opted for the Michael Jackson look and froze only on the right side. During the very long exposures (of which none really worked out) I enjoyed the only radio station oozing through the rear hatch of the truck - the AM station from Casper, Wyoming. At this early hour I learned a lot about rodeos, cowboys in general and the hardship of being a young cowgirl in particular.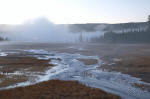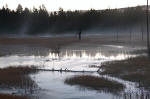 The art of avoiding bison droppings in tall grass in the darkness is something I haven't quite mastered yet, but my boots are waterproof for a reason. All too soon the "good light" was over and I returned to the campsite and packed up my tent. From there I drove to the Norris geysers, where I was one of the very first people this sunny morning. Unfortunately, most hiking trails were closed due to unusually high activity - not that I saw anything unusual. With the first 2GB flash card filled (bracketing in raw mode, baby) I headed further north to Mammoth. On the first time around the Springs Drive I witnessed an obviously very stressed German tourist who was rushing around with his camera, while his wife (or actually it could have been mother, who knows) was impatiently making not very subtle hints to leave. I enjoyed his colorful curses each time when something didn't quite work out for him - which was unfortunately quite often.

There is a restaurant at Mammoth. You guessed it - I did try the chili, and it was as good as ever. Ok, the chili at Old Faithful was much better, but this was a chili nonetheless. With no springs to blend with I took a mental note not to consume chili on the same day of a trip on a plane. Also, based on what I saw in the restaurant on the screen of my Powerbook I was clear that I had to perform some emergency sensor cleaning, as a turd had been seen in a very visible area of the sky. An expertly blow with the dust gun and it was confirmed, the large turd was blown away, and onlookers were only moderately confused.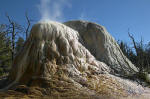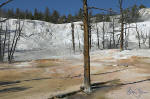 With new energy from lunch I headed to the Mammoth Springs Drive again, this time for a hike through the scenery. Unfortunately, even here the trails were closed, this time due to construction. Watching the unusual volume of boiling water flowing down the mountain I am sad to report that I joined the ranks of the outlaws and even so modestly crossed the "Do Not Cross" line. I didn't go more than maybe 30 feet or so, but it was sooo worth it. Last year it was glowing lava, this year it was sheer volumes of boiling water. With rugged boots and on safe footing I stayed clear of present danger, but got the full bubbly and steamy experience.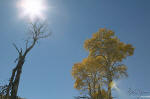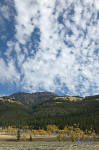 From Mammoth I wanted to go to the north east entrance, a place I have never been before. It is also said to be rich on wolves. Last time I was here was with Essan in 2001, and we did see a few coyotes in the same general area. This time I was less lucky: driving all the way to the end didn't uncover any wolves nor people with long lenses, usually signifying something worth stopping for. I drove back and this time around I was again the one who started a crowd - aiming 600mm of big white glass at three antelopes. Even with them it was clearly mating season, and while Mr. Antelope had only two Mrs', he was getting much luckier than Mr. Elk the day before with all of his women. Goes once again to show that it's not quantity that counts.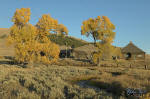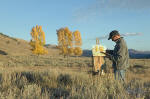 After this heartwarming experience I thought it would be a good time to pitch my tent. Since the Pebble Creek campground was already full, I went to Slough Creek where I found a campsite right by the ... well, creek. As I drove into campsite #22 which seemed ah so inviting, I was greeted by Bambi and her daughter (or son, hard to tell when they are so young, and they weren't wearing pink nor blue). Without disturbing the local wildlife, I set up the tent and went back hunting for wolves and other furry mammals. Unfortunately, I was not very lucky this time. Other than the common bison I ran only into a family of mountain goats.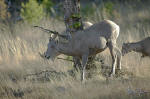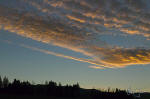 Trying to get to bag earlier than yesterday, I embarked on the 2.5 mile dirt road to the campsite, which this SUV bravely mastered. I was pleased to be able to challenge it in such a way, since chances are this must have been the roughest road it will ever have to face. So I arrived back at #22, warmly greeted by Bambi & Jr. I have no way of knowing whether it was the same two, but let's assume so. I managed to clean things (SUV) up a bit, downloaded the last pictures, and wrote these lines before turning in. Let's hope it will be warmer tonight.