Fog Denser than in SF

July 24, 2001

N67.802, E23.681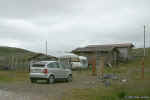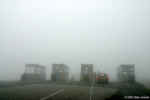 The sleep in the car was surprisingly comfortable. A quick look through the window revealed nothing, because the windows were more than just fogged up - they were wet. A second look showed that even once the window was clear, not much can be seen: dense fog. Looks like the brief clearing we experienced last night was only temporary. Things have turned to the worse, and while some 10km from the cape we still could see that the local reindeer farmer
drives and Audi A2, the further we got the less we saw.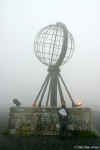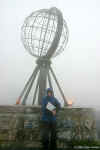 With some luck we found the toll booth at the Cape, and were greeted back - the ticket is good for two days. The parking lot was remarkably empty, or we simply didn't see the cars because of the fog. First we headed to the globe to shoot an Apple promotional picture of us holding the G4 Powerbook at this special place, rain or shine; currently rain. The Powerbook came into full action as we picked one of the empty seats in the restaurant and sat down to download yesterday's pictures. Mercy with all poor souls who have to do this via USB - PCMCIA is slow enough already; took much longer than drinking my hot chocolate, but then again that's not surprising since the 18 NOK, or three bucks, bought me just about 200 ml of that precious nectar.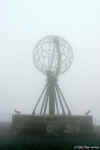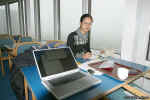 Essan wrote a few postcards, I desperately tried to catch up with my travelogue: writing about events two days back isn't quite as easy as one would hope. Also, this is the point of discovery that at these premises you can find the by far best toilet paper and facial tissue on Earth, or at least as far as we've traveled. After a generous break in the restaurant we decided to bail as we didn't expect the weather to improve so greatly that we'd actually get the midnight sun. But bailing wasn't so easy, or at least quick, since in the fog driving progress was very slow. We felt sorry for, and bewildered by the numerous bikers, most notably the Russian national team (with their support van) who were biking around here. I mean, come on, it may be studly and all, but it's strong wind, temperature around freezing, 10m or less visibility, and you're riding a bike wearing shorts? Memories of me riding the bike to high school at -20C came to my mind... At least I had youth as an excuse.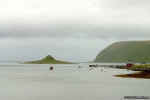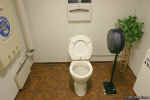 The dense fog went away once we left the Cape island, and now it was only the RV tourists and reindeer who were slowing us down. We got a glimpse of Nipple Island as we called it, and we once again enjoyed the comfort of King Toilet, a Statoil gas station bathroom in Alta where the relevant appliance was situated according to its importance - in the middle.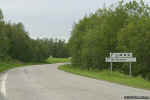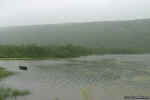 From Alta we took highway E93 heading to Finland. The scenery quickly changed: hills, almost mountains, and lakes with grassy islands. Eventually we reached a high plateau with thin vegetation but real clouds and rain: it was like in The South, faucet either on or off, little in between. With little warning, suddenly we were in Finland, home of Keke Rosberg (of whom I was a huge fan throughout his F1 career because he had so much character) and Nokia. At the border an EU sign - Finland member of the EU? Prices in Euro? What happened? Nine years of living in the US have apparently eroded my knowledge of current European affairs.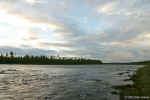 The sad events on the windshield were a direct indicator for things to expect as soon as we get out of the car. Neither of us felt ready for the challenge yet, so we kept driving some more, after all we had some serious time to make up for. Eventually, cooking dinner by a river was a fight for survival, to be surpassed hours later by the same fight when setting up the tent - only much more fierce because the enemy was in high numbers and relentless. Our low casualties were directly proportional to our hygiene, a well calculated risk. But we didn't really care. Patiently we made a first sorting pass through the 500 pictures of the last two days and fell asleep.

---