Rain, Rainbows and Reindeer

July 23, 2002

N71.039, E25.629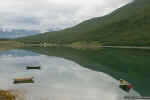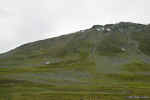 We woke up to the sound of gentle rain, and sheep walking right by the tent. We lazily rolled around for a bit until the gentle rain went completely away, just like last night. With the rain also went the sheep, we packed up and headed for the next ferry. Here we were the last car to arrive, already finding the ferry loaded almost full with cars and busses - including one carrying Italian tourists, probably heading all the way to the Nordkapp, as most visitors to this region do. Even though not very long, this ferry is the most expensive one yet, even the stale hot dog served on board is 5% more expensive than on other ferries. A look at the full car deck, and at the only possible alternative route tells me that obviously capitalism works.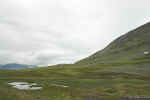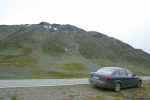 With every day the sun gets about 0.5 degrees lower to the horizon, which is a lot if it is only one degree up to begin with. Hoping for better weather, a better angle of view, and in general a bit frustrated with being at the right place at the right time but the weather not playing along we decided to go the full way, to the Nordkapp (or North Cape), the northernmost point in Norway, more north than the tip of Alaska for instance. As we headed north the landscape was quickly changing from mountains with trees to a tundra with few features. The reindeer were getting much more frequent, even if not really smarter. The wind was blowing harder and apparently was having a good effect - the sky was clearing. A beautiful rainbow, or at least a small piece of it, could be seen over the sea.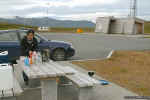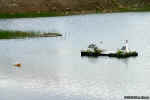 They recently dug a tunnel between the mainland and the cape, which is actually a small island very close to the mainland. No more ferries. This tunnel went just like the tunnel in Tromsų steeply down for 3 km, flat for 1 km, and then again steeply up for 3 km. At the end was a toll booth where they fortunately accepted credit cards, as our leftover cash would not have been sufficient.
For the fee they had another nice surprise for us: a rest area with tables and benches and a bathroom. Unlike all the other "WC"s which we have encountered this far, this one was actually a Water Closet, with water. Warm water. My excitement was incredible. I could not cook and eat fast enough, I was so thrilled. Let's say our last shower was on July 18 morning, and there is only that much you can / want to do with ice cold water from the 20L tank.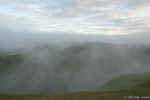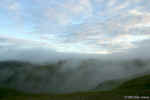 To compute the exact sun stats for our time and place I put my Palm Vx with attached GPS unit on the car roof so that it could acquire satellite contact, so that Planetarium, an excellent program for any astronomer (to which I shyly contributed the GPS locator) would tell me what I needed to know about the sun's position. Then off to the promised bathroom, followed by Essan who was anxious for her turn. Fully refreshed we got back onto the road, heading to the Cape, merging in front of a bus, accelerating hard. You don't want to be stuck behind a bus over here, trust me, they are almost as bad as Dutch tourists with RV trailers, and that means a lot. This is about the time when first a gentle scratching sound, later a thonk reached my ears from above, me thinking "w.t.f." A quick look into the rear view mirror showed my Palm with GPS attached hitting the road, somewhat disintegrating on impact, the bus swerving a bit, the driver obviously deciding which part to hit, as parts were everywhere. This all on a narrow bridge with obviously no place to stop. Let me summarize that the recovery operation was successful, and that while Palm doesn't know how to build good hardware, not to mention software or an OS, their stuff is durable. Should you in a rage want to dispose of your Palm, an understandable sentiment, dropping it from a car at about 70 km/h, and subsequently running it over by a bus is not enough. Same applies to the attached Magellan GPS, both in regard to software as well as durability. It's obvious that my Palm was in a severe accident, but everything really works. Only the stylus was mortally wounded, decapitated.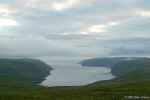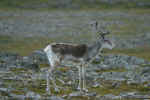 As we were approaching the cape it was getting increasingly clear, with the exception of North - that's where the sun would be at midnight. Outside temperature was around 10C, a new record low for us, so we decided to go with the local crowd and have some more ice cream. In good spirits we arrived at the Cape - at the toll booth, that is. It will cost you NOK 185 per person, or about 26 Euros (about the same in US$, but that keeps changing dramatically these days...) to actually set your foot on this rock. Weather, and as later turns out, the best toilet and tissue paper in the world included. But don't despair, the fee is good for two days, so you will get two shots at the midnight sun. Probably still not enough, though.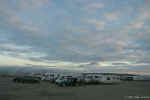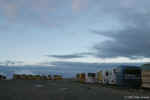 We joined the hundreds, or more likely thousands of people at this place, about the size of two soccer fields. They came with cars, RVs, and busses from everywhere, many gathering around the globe, most inside the restaurant complex due to the outside conditions. The clock shows 23:00 and busses are still pumping in more and more people from Germany, Italy, Poland and Spain, all to experience the midnight sun. Only problem was that while the sky was to a good part clear, the northern part sure wasn't. So just after midnight people left in the busses which brought them here, while we waited until 0:24 which is actually the time when the sun is at the lowest point. No sun. Not today. Maybe tomorrow, but we have a ferry to catch in Helsinki on July 28.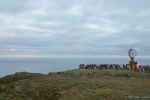 We left the expensive rock, enjoying the "sunset" -- colorful clouds around us, with brightness as if it was high noon. We didn't even set up camp; due to the extreme wind we felt lazy, besides Essan kept bugging me that she had never slept in the car before -- today she got a chance.

---