Day 3

From Perth to Aberdeen

or, how to play golf in Scotland
---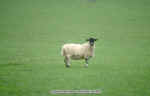 To put it short, in the morning it was raining. It was actually quite pouring, and so was it during most of the day. Unlike myself, my photo gear does not have protective Gore-Tex wear and so I merely watched the scenery as I drove from Perth to Aberdeen. Quite often I pulled over and enjoyed the scenery, such as the sheep and the Dutch girl who desperately tried (and failed) to take pictures of them. Swiss sheep, if approached by a person, usually come closer, expecting some candy or pieces of bread, while Scottish sheep run away. It is questionable which behavior is better, yet given the sheep's overall intelligence this is just a philosophical question anyway.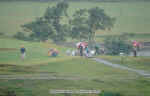 Impressive was the persistence of some golf players in Braemar, a small village in the middle of sheep paradise. I assume that being Scot means to be used to playing during rain, even if it's more of a downpour for non-Scotsmen. There was about a dozen of players with rather impressive umbrellas, trying not to get too wet when playing the ball. Late in the afternoon I visited the little town of Portsmouth, a very fishery place.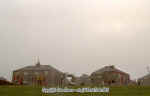 When I saw children playing in the foggy playground where you could barely see the sun I wondered how the local residents get a sufficient level of Vitamin A. Also, you could smell the fish everywhere, together with the preservatives from the nearby canneries. In a discussion with a local older lady (who approached me after she saw the Swiss license plate) I learned that the local fish market is one of the largest in Europe. Given the smell it better be. She also apologized several times for the present weather, as if she were responsible for it; in addition, she thanked for the wonderful weather we supposedly had in Switzerland this past June when she visited our expensive place, as she said. When we were saying goodbye she gave me some local cookies, the best ones as she assured me, because she used to work at the very same bakery when she was younger. For someone coming from Switzerland, or don't even mention Palo Alto, the people here are almost shockingly friendly and helpful.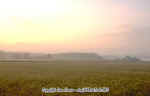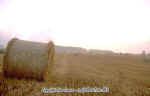 As the friendly gas station guy predicted earlier, the sky finally cleared up a bit towards the evening, and I could enjoy a rather lovely sunset. During the 10 minutes when one could see the sun I spent more film than in the past two days. If I learned something from my trip to Mono Lake then it was "bracket, stupid!" Being close to Aberdeen also means the impressive choice between about six FM radio stations, ranging from talk radio to bagpipe music, but unfortunately nothing "normal". Still better than at home -- there we have four stations, one of them only in mono and none worth a cent.
---