Grand Teton, Yellowstone
Or: turn around, mister! Turn around!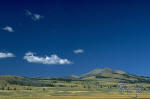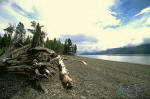 Staying in Jackson at the most expensive Motel 6 ever, I dried the tent and recharged Toto's batteries. With the tent dry, floor sandy and Toto ready for action, I went onto the unbelievable journey of 40 or so miles north to the Grand Teton Natl. Park. First duty was to finding a reasonably dry campsite and then to scout out the park. Trouble was that the weather was as usual not favorable, and so instead of taking tons of pictures (of imagined mountain peaks in the fog) I talked to many visitors, most notably the retired British couple on the way to SF who asked me what to do and what not to do there. I gave them my maps of SF and the Bay Area as a gift and told them not to say "Frisco" but rather "San Fran" - and that the Napa valley was overrated.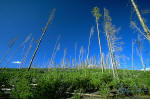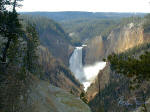 I managed to cook still in the dry but the nightly GPS download and travelogue thing was again done inside the car. And don't forget to close the sunroof, silly. One may wonder why I bothered to dry the tent the previous night, as the Grand Teton awakening was an equally soaked one as the nights before. At least not at the inside, so that Arthur Clarke's 3001, which I just finished this night, did not further suffer, apart from the usual Stan's Books suffering of course. Yet there was a slight promise that the day may turn out beautiful. This prompted me to jump out of the tent into the icy, dark morning and to drive up to Yellowstone as fast as the speed limit allowed, in the knowledge that campgrounds tend to get full there. I was assigned campsite D135 in Grant Village, so I immediately set up the tent and was on the road again by 9am.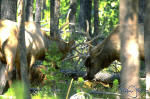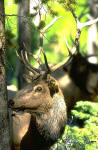 It will never cease to amaze me how close one can get to the big animals here. The Bison decide that the grass right at the road is the juiciest and park their behinds on the road. Which naturally brings the traffic, usually flowing at unbelievable 20mph, to ha halt. Or then one can watch the elk (US; deer for CDN or EU, the Americans like it a size bigger) in the woods close to the road: driving calmly, I spotted some elk in the woods and so I mounted the good new 300L/IS lens onto my camera and marched off into the thicket. The problem was that the damn animals come so close to you that the 300mm is very inadequate. Getting farther away doesn't help things either, since then you only have tons of trees over a long distance in the picture, with an elk sticking out its behind somewhere.

At a sudden I could hear some woman shout "turn around, mister! turn around!". She can't possibly mean me, right? So I let her repeat it a few times, until I turned around, annoyed about her disturbance, and almost collided with an elk's huge antlers. Even if my lens could focus this close, I'd get only the guy's eyes into the picture...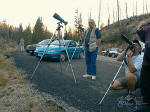 Another story is about people's "herd instinct" in this park. I mean, someone parks along the road, and soon there are some 10 other cars with people looking for what you are looking at. I once stopped to clean my sunglasses and suddenly there were tons of (soon very disappointed) people around me. But one time I joined a solid mass of humanity because it looked very legit - with two park rangers and a woman with a HUGE telephoto lens. And I mean, HUGE. So I join the crowd, quickly see what they see, and set up my longest setup - 300 + 2x + 1.4x TC. By the time this is on the tripod (Ralf, did you return the tripod mount to me? It's kinda hard without), with the proper custom functions for mirror pre-lock etc. set, I manage to get one shot of the bearded mountain goat up on the cliffs before he retired for the day.
With one or the other shot of wildlife I arrived at the campground after dark. Very much to my surprise, I found a note on my tent asking me to show up at the office. So I did, where I felt like an idiot (or worse): two Stanford degrees don't mean by any means that one has common sense or can read letters 3ft tall. I set up my tent in site D136. So I moved to D135, where I belonged. My neighbors were a German middle-aged couple; they actually live in Georgia and had ah so many funny (or scary?) stories to tell about it. Kinda like my friend Dev about Wisconsin...
---