Flat Start
September 15
The gentle drizzle was still in full swing in the morning - way too early morning for that matter. Jim and I are on slightly different schedules, which at least allowed me to use the morning to prepare my photo backpack for action. The breakfast was nice, and the pre-tour briefing was ... well, brief :) Properly oriented we headed out to the Impala Hotel to exchange some money, and from there we set off to the Tarangire National Park where we would stay for three nights. However, with our luck, we got a flat tire before even reaching the center of Arusha. Derek, our driver, pulled into a service station where help was imminent and abundant, as everyone seems to be happy to lend a hand in exchange for some change. One of the spare wheels was soon installed and Derek's driving that would make any race car driver proud had us caught up with the rest of the group well before the park.
Click on the first image to start a slide show for this day (63 pictures)
Images shown below are a small selection.
In slide show, click on image to return to index.
On the way we observed herds of cattle, donkeys, goats - and even camels, brought here by who knows who for why knows what purpose. At the entrance to the NP we traded 12000 Schillings for some good maps of Tanzania and properly enjoyed the overhead sun while the drivers were popping up the roofs of the Land Rovers. Andy was quick to point out that these were highly customized vehicles, stretched, widened and raised compared to their stock counterparts. Indeed, there were aspects of the cars that did look somewhat home made and individual between each vehicle; yet still this "stretch Rover" is the staple safari vehicle in this area. For good reasons as we were soon to find out.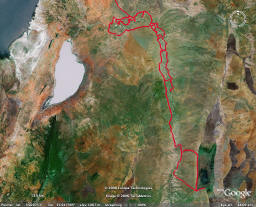 Andy has lived up to his promise to me to deliver giraffes and zebras within 5 minutes of entering the park, even before getting to the lodge: we saw zebras, giraffes, elephants, ostriches and impalas. Add to that an impressive number of feathered species that I could not care less about, and the first day was pretty much everything I had hoped for.

The lodge consists of a main common area (dining hall and bar) and a number of permanent tents on concrete slabs. Pretty neat, bathroom and shower included. When I normally use a tent it's barely waterproof and usually doesn't have a shower within a square mile. However, the thing that I will mention is the amazing view from this place: the terrace is overlooking a vast valley with all the acacia trees that you have seen from African documentaries or books, with animals of all sizes and colors marching through, right in front of you. It was like being in a wild animal park, laid out right there in front of you.

We had a quick & good lunch and headed out looking for wildlife. We got plenty of that: giraffes, zebras, wildebeest and even adorable warthogs were all present. The cuteness-cake will however go to the somewhat unfortunately named Dik-Dik, a pocket sized antelope. They are also abundant, but very well hidden even in medium tall grass. They look like they somehow got stuck in their childhood. And then one should not forget the huge herd of impalas - that poor young man had all four hooves busy protecting his women from competitors, and who knows what other duties he had to fulfill with his ladies. Good times.

We got back to the lodge where we had a choice of beef and something else, with the usual great soup at the beginning and some desert at the end. Camping with style, I would say. To the style added the presence of a power outlet, which was attacked by all of our chargers of various types. Only few people brought a plug adapter and/or a power strip, but as usual I was prepared, along with Jane & Joy, and together we built the infamous Tower Of Power, an incredibly ingenious construction made out of various adaptors and cables (where's a camera when you need it) and made sure that everyone's camera & laptop was charged. Andy was providing sensor cleaning services with his Visible Dust Arctic Butterfly MK2, whereas my MK1 had fallen apart before even reaching the destination. A magnificent piece of engineering the MK1, let me tell you.

We were all so tired from the hours on the "road" and the bouncing around, that once the batteries were charged and images downloaded we'd crash in our tents; no time to write a proper travelogue or to review images - something that was to get even worse in the days to come.