Where Is a Lake When You Need One

July 26, 2002

N60.585, E24.696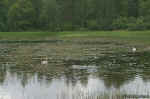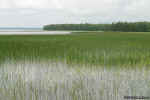 I could not sleep at night at all. As a matter of fact I got up in the middle of the night and worked on Curator, adding some features which my mother requested. I guess I was in the zone, it being dark for the first time in a while. Feature almost completed and battery almost run down, I gave sleep another try around 3 local time, only to wake up a few hours later to the sound of heavy rain. Being the same person who slept through a fire drill in college, this did not further disturb me. The water which soon was falling in my face, on the other hand, was source of minor discomfort. My first duty was of course to my Powerbook, holding the pictures of the whole trip and then some, and I wrapped it in my Gore-Tex jacket. Then I closed the tent window and continued to sleep, until it started to rain on me even through the closed window. In the rush of last night I didn't set up the tent properly and this was the punishment.
Essan missed all this fun and seemed well rested in the morning, once the rain finally ended - for now at least. This gave us the chance to pack up and head further south. The day was just a blur to me because we were still playing catching up with the schedule. The local radio - "Radio Mafia" - plays all sorts of music, ranging from fusion jazz to ... well, this time Finnish rap. There is a much bigger selection of radio stations than in Norway - the terrain is much simpler for broadcast, as it is flat, and I guess the population density is higher.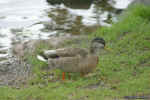 For lunch we stopped at a restaurant, where Essan had her next shot at a fish. Unfortunately, somewhere between me ordering from the 5-language picture menu, the waitress taking the order, and the kitchen, the order got slightly messed up and her fish arrived as a pork cutlet, a tough one at that. She didn't further object, but it was obvious that her happiness level has seen higher moments.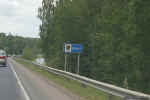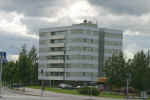 Because we are the crazy tourists we made a small detour through Nokia, I mean how could you go to Finland and not visit Nokia? No sign of any cell phone plant, not that I really expected one, but instead of quite some communist architecture influenced buildings. The tall apartment buildings around here really remind me of those in my native country, all looking the same, dull, made from pre-fab concrete panels.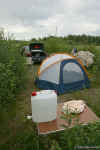 About 50 km north of Helsinki we set up camp and cooked a really great dinner. Essan got once again her fish, this time without the extra salt, and finally seemed happy with Scandinavian food. With some extra time before sunset we headed out in search for a lake. Problem is, where is a lake? Now you may know that there are over 100,000 (187,888 to be exact) lakes in Finland. That's less than 30 people per lake. It's just that these 30 people don't want to share their lake with any strangers. They grow forests around them and build roads in such a way that the lakes aren't visible because the trees obstruct the view. Then they conspire with the map publishers and don't even put most of the lakes onto the map. Quite a conspiracy, let me tell you.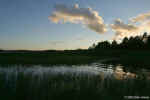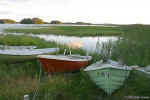 Finally we found a lake, at a time that the sun was right at the horizon, and in the wrong direction. The view was nevertheless nice, as always, and the mosquitoes were noticeably absent. But so was the diesel in our tank. Both the trip computer and check control system made it very clear that I had less gas than I cared to know. In addition, for the past hour or so we've been driving on mostly unmarked roads, with little to no idea about where our tent was. This was one of those moments which geeks like me absolutely love: as a habit, each time when we set up camp I mark the position in the GPS (hence the coordinates at the top of every day's log), just in case I ever care to know where we camped. Now the GPS told us that the tent was "that way" 30 km away. After a while on more unmarked roads, we were back at the tent, one meter closer to it than before. Geeks with frugal girlfriends: if you ever need to justify buying a GPS unit, this is the way to go.
---