Desert Island

July 21, 2002

N68.087, E15.705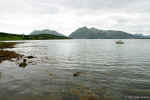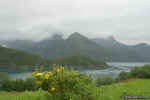 A gentle breeze blows and the sky is cloudy, but there is no rain when we wake up. Once again we enjoy the view through the tent door. It was there the whole night, I checked.

Educated by the ferry schedule, we were at the dock about 7th in line. Ahead of us a Dutch couple with two boys, about 4-6 years old, who were engaging in all sorts of activities, such as climbing rocks, rolling around in the median, and spanking each other. This was a theme which went throughout the entire wait for the ferry - the boys simply seemed to like spanking each other's butt. Odd.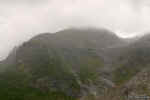 Our "friends" were again with us, too: a couple with their German shepherd in a green Audi wagon, and the "blue box", a very boxy looking small truck. We've been with them on each ferry for the past two days; it's good to see that we have the same pace as others on this scenic route!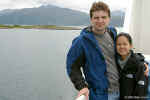 The large ferry finally departed and people gathered in the upstairs salons, this time not only with the usual gadgets such as cameras, cell phones (these are everywhere in Scandinavia, you would not believe it), but also with portable GPS receivers. On this one hour trip we were to cross the Polar Circle, and because the old fat red line got meanwhile washed away people had to rely on more modern means to find the very moment. For those less nerdy passengers the captain also announced "ladies and gentlemen, we just crossed the polar circle" - in Norwegian and English. The information that sausages and waffles could be purchased in the lounge was broadcast earlier also in German and French.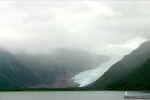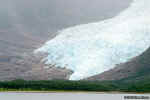 Enough ferries for the day. Instead, Norway had something new planned for us: tunnels. Yep, the sunny, hilly, blue fjords with ferries of the past days were to be replaced by a quite mountainous, foggy and drizzly landscape, with a road which at times was more underground than not. But at least the tunnels don't have a schedule and are for free - you pay the fee at the gas station in a way.

Water is again abundant - both as fjords as well as waterfalls of various shapes and sizes, and of course the omnipresent drizzle. Then there is the frozen water: just around Storjorda we get to see a glacier, or was it two? We can't really see the top of the mountain, so it's hard to tell whether it's one glacier split in half or two separate ones. At any rate, the sight of this beautiful blue ice almost creeping into the fjord is amazing. When you come here, don't go for the ferry between Vassdalsvik and ěrnes but rather stick to highway 17, or you miss on all the splendor.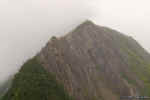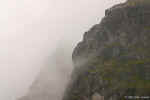 As usual, at a rest area we prepare soup for lunch and enjoy the wet weather and great view. Around us are people from many countries - two Swiss couples talking so loud the whole lot can hear them, and the Czech woman weeding out the rest area's flower bed, saying the flowers were so beautiful one can't simply leave the weed grow there.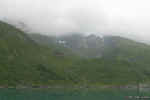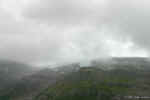 We head north, more tunnels, more rain, more spectacular things to see, more pictures. Today's scenery reminds me a bit of that in north western Scotland, and Essan agrees. Gray mountains with moss and some trees, patches of snow, and of course the drizzle. It's Sunday so everything is closed, even many gas stations. In a small town right off a ferry we steal some water from the local (closed) flower shop - all gas stations so far were closed (card only) and the water faucets were as usual missing the handle. Now we have the 20L tank full once again.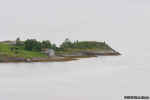 Today we feel like eating out. Luckily, we so happen to be driving through the town of Fauske, which at least on the map gets a big, fat font and even a long-distance marker triangle. Sunday late afternoon, however, the three streets in Fauske are rather deserted. We count five restaurants, one of them closed, one a pizza / burger place, two of burger / grill style, and one snazzy looking hotel restaurant. Hotel it is. The menu in the window doesn't promise a vast variety of foods which we've been so yearning for, but at least ... some foods. We enter and are given a nicely leather wrapped menu, which unfortunately has nothing in common with the menu in the window. It features about five dishes, in style of reindeer, whale, sheep, and beef with cheese - the end. Also all at prices 2-3x as what was shown in the window. I ask the waitress about the discrepancy and she says "that menu ends at 18:00". My watch says 18:30 and so for the first time ever I find myself walking out of a restaurant without ordering.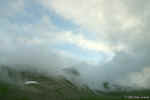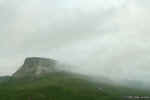 What now? We just ate at a pizza / burger place yesterday, so we looked at both of the grill style places and picked the one which looked more "authentic" or shall we say grungy. For instance, they had a really original way of dispensing ketchup and mustard: on a kind of a rig, about one meter tall, standing on the table there were two obvious, large containers - one of mustard, one of ketchup. From each was hanging down an udder looking thing, most closely resembling a condom, leaving about one foot between this very udder and the table top. You would position e.g. your fries on the table below the ketchup udder, squeeze it, and out came ketchup. The customers who I watched operating these udders seemed to be very skillful at this art, making me believe that they weren't doing it for the first time. Personally, I didn't feel like ketchup and so I missed this experience altogether.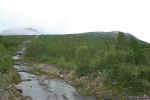 There we ordered two different beef dishes - one ended up being something resembling beef fajitas (just the beef and onions) with fries, and the other looked like an oversize but thin burger meat with fries as well. Combined at about $30 we were in the middle of the local food ballpark. Note that once again there was no fish dish on the menu - not for me, but for Essan. The food tasted better than the fajitas at Chevy's but that has very little significance. The speed at which we consumed the fries, beef and even the supplied "bernaise" sauce was alarming as well as humorous and went to show that we probably were quite hungry.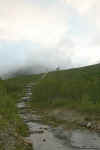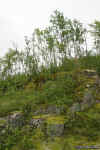 From Fauske we headed further north on E6 and experienced many more "ooh - ahh" moments. The incredibly tall waterfalls and water "slides" - a stream of water coming down the mountain, except not in the usual narrow stream but in a very wide, straight bed of bare rock surrounded by the usual vegetation on both sides. Words can't describe it, and even the pictures don't do it justice, as they don't convey the proper sense of scale.

Just after 23:00 we stopped at the local gas station to buy something to drink. With an outside temperature of 15C Essan came to the strange idea to buy some ice cream. It's almost midnight, freezing (for California people at least) and you want an ice cream? It was good =)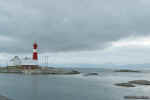 We ended our day by going all the way to the Tran°y lighthouse and watching the would-be sunset at 23:45, which of course wasn't happening because of thick clouds. Still, the scenery was breathtaking, and midnight sun or not, it was bright as day. My mind was not as bright anymore and I managed to get the pictures out of focus, a mistake which I noticed too late to remedy.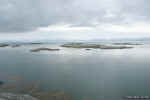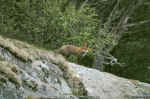 While looking for a campsite we spotted a young fox just around midnight. As usual where is the right equipment when you need it: 16mm lens, ISO 100 and mirror pre-lock are simply the wrong tools for such an occasion. Still, the friendly fox was a good sport and posed for a few blurry shots. Later, we were equally lucky with the campsite: previous night we got a view of a whole fjord; tonight we got a view of a fjord from a very private island. Indeed, we were the only (human) residents of a small island just off Hamar°y, connected to the mainland through a small artificial dam. First I verified with the Tide Tool on my Palm that currently we have high tide and thus if we can get there now, we will also be able to come back. Then we grabbed the essentials and off we were -- a very private arctic island for one night.

---