Days
6 and 7

Stuck in Wick

or, it won't get any hotter
---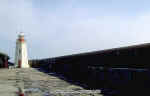 Well, it came as feared: the guy who would be able to repair a broken starter is out of town, and of course no spare pieces are available. The closest Volkswagen shop is as said many miles away, and they will have to get the spare pieces from there. Unfortunately Monday is a national holiday, too, so I will be here for a while.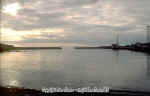 Having so much time I decided to walk around town and take lots of B/W pictures to take advantage of my old 20-35mm lens. Maybe I will call my next portfolio "Wick against my will" or so. After a couple of hours you have walked through every single road and footpath in this town, and with the weather initially favorable this seems a sensible option. When walking around I talked to many people, most of them in shorts and T-shirts, or less (men only). Myself I was however in long black jeans and a heavy sweatshirt. A man told me that this was about as warm as it ever gets -- 15C with a rather chilly wind from the sea. It indeed seems that I got spoiled by California.
Unfortunately I must have injured my left foot on Saturday on one of the walks as on Sunday it hurt like crazy and so I am unable to walk too far. Doesn't really matter as that day it rains really bad, too, clearing up for a beautiful evening, and so I am here watching Formula One and other stuff on TV. I was surprised not to see Schumacher's Ferrari break down halfway through the race but to win instead. Supposedly the guy is worth some $40M a year, and that for exceeding the speed limits all the time.
The hosts in the B&B are kinda weird. He is a railway worker and not very skilled in talking nor especially communicative in general. Still I managed to talk to him around breakfast time for about five minutes. He apparently is enough of a F1 freak that he traveled to the last race in Hungary, by train... She is even weirder -- "hello" is all she says, at best. But she cooked a rather good dinner on Sunday for an additional £ 4 charge, and so I am not complaining. Another guy lives here in a second room, he is a power company worker from southern England and works here 7 days a week till they are finished. One doesn't get too much to see of him, as he leaves early and comes late. This is my last night here because the room I am in is reserved from tomorrow on.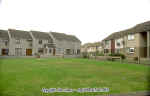 (watch the satellite dishes) About TV: as you may know, movies look a bit different in the theatres than on American TV. All "strong language" gets either cut out or muted, in contrast to European TV. However, here in Britain, this form of censorship also happens, even in stupid movies like "Teen Agent" which I happened to have seen (in its full length) in Switzerland just before I left. Even completely harmless things get "edited for content". Also on BBC TV, the news just reported about a hospital in Edinburgh which will get its own police station. Supposedly the doctors and nurses have been recently attacked at an average of twice a day at knifepoint, and after neither closed circuit TV nor panic alarm buttons helped a bit, the police decided to open a station inside the hospital. Sounds like LA to me...
---