Women vs. Cows
September 20
We were woken up by a friendly "Jambo, jambo!" by one of the camp staff. This definitely beats the alarm clock, and even a lion's roar in the middle of the night. The first action of the day was to call Essan on Andy's Iridium phone, just to say hi. She was pleased, and amused about my use of a satellite phone. See, there's cell phone coverage at Ngorongoro; we see the guides call each other on the phone all the time. I even brought my cell phone with me, and no I didn't forget the charger. However, my T616 doesn't get any signal out here - I guess they use the one band that it doesn't have. Also, strangely, Andy's Iridium is actually cheaper than calling with Cingular, even if it worked. So I use my phone as a night clock and alarm - even though I never got to use that feature since Jim is well equipped in that department.

Today's plan was to get to the southern Serengeti; on the way we would have to cross through the Ngorongoro crater, and then we would visit a Maasai village and the Oldupai gorge (traditionally historically misspelled, including on Wikipedia), the former of which would be particularly interesting to The Ladies. The drive through the crater was calm and not at all dusty since the weather gods sent some rain to help with that problem. However, the dust was restored just in time for the Maasai village; one may say that it had reached an all new level of hostility, at times creating visibility of pretty much zero.

The village was simple as expected, and the visit to the interior of one of the huts was quite enlightening - not in the literal sense as it was pitch black inside. Our guide who spoke perfect English explained that a Maasai man is allowed to have up to twelve wives, and that each wife carries the price of one cow. He also said that all the cows are community property of the whole village; I did try to get a clarification on how this is supposed to work, but I didn't get too far. Instead we learned that only men are allowed to drink an animal's blood, and that women don't wear shoes because they don't walk far enough. There you have it.
Click on the first image to start a slide show for this day (56 pictures)
Images shown below are a small selection.
In slide show, click on image to return to index.
Next stop was the Oldupai gorge where we got a lecture on the finds of the first human skeletons. I am sure you have heard of Lucy, right? We also enjoyed a latrine with a view - imagine a wall, and you can look over it, into the beautiful gorge. That's what I call an open air spectacle.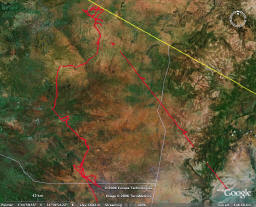 We had Death In A Box lunch at Naabi Hill, just at the entrance to the Serengeti. Today, the DIAB has truly deserved its name, as less of the food was recognizable, let alone enjoyable. Memories of London where DIAB comes from were brightly awake. Many of us practiced the by most Americans forgotten art of food trade - you can have my looks-like-chicken for your orange juice. With parts of the DIAB in the system we headed into the Serengeti. The dustiness has been temporarily somewhat reduced by light rain, which also created some spectacular cloud formations. I love clouds; we don't get nearly enough of these at home. Admittedly I didn't come all the way to Africa to go crazy about clouds, but given the lack of exciting fauna I take puffy clouds over a dust storm any day.

Jim and I were sharing the Rover with Andy today, and Kileo was our guide, not because top notch guiding skills were needed on today's transit but because we had to go to the local lodge to confirm our tomorrow's balloon ride. Thanks to this minor detour we were able to watch two young hippos duking it out by the river. We also got to see a giraffe drinking out of a stream, but by the time Kileo managed to stop the giraffe had lifted its head, laughing at us with an expression that next time we need to act quicker if we want to snap a picture. Giraffes don't like to drink in the presence of others since it makes them vulnerable, in their awkward squatting pose.

Getting closer to our tent camp we drove past a water hole with a large number of hippos in it. It was an amazing sight, and smell: the hippos poop quite a lot, and since this was a small standing body of water one could say that it was a huge pile of crap. It is safe to assume that the hippos have a stronger immune system than we do - not to mention less picky noses.

For the past hour or so we were joking about the drinking giraffe. I was clearly excited about the thought of seeing one, and Jim is excited about pretty much anything giraffe related. I expressed my desire to actually photograph a drinking giraffe, given that we've seen one but were too late with getting the lenses out. Andy laughed and pointed out that seeing a drinking giraffe is about as likely as seeing a panda having sex. So it came that just around the bend we got to see not one but five giraffes drinking out of a puddle in the road. Once again this was not the best photo op I've ever came across, but I snapped a few shots through the windshield, just in case the spectacle was to end - which it did as soon as the giraffes spotted us. Andy just shook his head in disbelief: five drinking giraffes...
Shortly after this experience we arrived at our tent camp. If yesterday's tents were luxurious by my standards, these tents were like small palaces. What's more important they came with very friendly staff who were eager to take our bags of dirty laundry off our hands, which was quite relevant by now as I have clearly run out of fresh socks more than one day ago. In addition to the friendly staff responsible for laundry, and the usual excellent food provided by the kitchen staff, we had a new native security guy. This one came in less traditional garb and also not with a spear but rather with a bow and arrow. I wonder if he was amused when suddenly Andy, Stephen and Jim came running from the campfire, citing a wildebeest stampede ring at the perimeter of the camp. And indeed, who can blame them - I'd run for safety as well if I had a herd of relatively brainless animals running at me.