Antarctica Is Far Away
January 20 / 21
When Essan's brother Alan was driving us to the airport it took me until Moffet Field to think of the first thing that I have forgotten: the strap for sunglasses, as well as ear plugs. This was almost as good as forgetting the FW card reader on the way to Peru, noticing it already a mile away from home - but this was also much less relevant. So on we drove, and by the time we were in Redwood City we found the ear plugs in a different bag. The strap was successfully acquired at the airport - and after a thorough TSA search we joined the other waiting passengers in the terminal. In the general area were two departing flights - one for Miami and one for Chicago. You could tell who was flying where: men in business suits vs. families with kids and senior citizens. The latter were well labeled, too, like children flying alone usually are. From miles away you could identify Chuck, Buz, Al and Henry, thanks to their bright yellow name tags the size of a CD.
Click on the first image to start a slide show for this day (24 pictures)
Images shown below are a small selection.
In slide show, click on image to return to index.
I am not a business traveler but I did achieve medallion level four times in my life so far, so I guess I have seen many things. When I watch the safety video presentation then it's more for humor value, observing the political correctness, the black gentleman in a suit sitting next to an Asian man with a laptop computer, both politely grinning at each other. The the oxygen masks pop out and everyone calmly puts them on, and onto the child sitting next to them and cutely observing the whole thing. Then, in stark contrast, there is real life. You are flying somewhere over Texas, minding your own business, and suddenly the oxygen masks pop out. Not for everyone, just for the center seats of row 27, but still. Very much to my surprise nobody scrambled to put it on, nobody even calmly presented it to the child next to them. Rather, people just turned around looking for the nearest flight attendants, who were about equally surprised and more or less ignored the event. We landed hours later with oxygen masks still hanging, and I never found out whether oxygen was really flowing, as the bags did not inflate, which is normal.

The food on the plane was as cheese contaminated as they get (why do Americans put cheese on everything, including BBQ chicken?), so upon our arrival we went on a hunt for food. At the root of terminal E is a Cuban restaurant, which we passed looking for something less experimental (those who know my digestive system will understand). We quickly realized that there was not much food to be had as everything was closing down already. It struck us that the Miami airport is an amazing maze: to get from terminal E to B you have to walk around what feels like the whole airport, still not finding any food mind you. Because the security check was so much fun we decided to leave the secure area once again and go back to terminal E which seemed borderline more food like. Through catacombs and secret hallways we ended up in E, left the secure area once again, and ended up at the original Cuban restaurant. I like Cuban food, or at least a subset of it - each time when we went to see a Shuttle launch we ended up at a Cuban restaurant in Cocoa Beach. Even here in Miami they had good beef with tons of rice, Essan found something healthier as well. As special bonus we got to enjoy President W's State of the Union address, or rather the glamourous entry of the gladiators. Rumsfeld seemed to enjoy it the most. Fortunately it was about time to get to our gate, so back through security where we could present our IDs and laptops and birth certificates for the 27th time today, and then though catacombs back to terminal B. Around that time the Cuban food has caught up with me which allowed me to find out probably the best designed feature of this airport, the speaker system that talks to you in the restrooms.

I don't know how the flight was, as I knocked myself out right away, so once again no picture of the equator. After waking up I was greeted by the Argentinean immigration forms which were even more impressive and complex than the US variety, not only because I just woke up. While they don't ask you whether you have ever worked for the Nazis (for good reasons in Argentina), they do ask you if you carry a cell phone, and if so, based on the forms you have to fill out you may get the impression that your cell phone is applying for a mortgage. We didn't have a cell phone.

The international airport (EZE) is very cute. There was almost no airplanes, the main building looked like something from the WW2 era, and there were very few people inside - both passengers as well as staff, police, pick-ups and stalkers. We cleared immigration and customs without any effort or controversy, except for the big pushy German woman who felt really strongly about cutting in front of me in the currency exchange line. We followed the instructions of the agency and looked for a government cab inside the building, as we had to transfer to the national airport. The friendly young man guided us to the curb, politely asking whether this was our first time in Buenos Aires, since we are wearing "this" - pointing at our heavy sweatshirts and jackets. I explained that we are heading to Ushuaia and he just laughed. We were loaded into a beat up Renault, a private car of the "City Car Corporation", and entered the Argentinean traffic.

With 5 hours before our next flight we were in no rush, and our driver seemed quite at ease as well. The whole area looked very Florida-like: plenty of space, everything green, and it was hot & humid. We started losing the sweatshirts, yet it wasn't helping much. The first buildings came to view, and Essan pointed out that it looked quite different than Lima. Indeed, there were no stalkers at the airport; the traffic moved in a quite civilized way; heck, there was a sun. Even in the depths of the city it looked no worse than say Chicago, and even once there was a traffic jam (of predominantly old French cars) it remained civilized, except for some mild curses from our driver and his driving on the shoulder.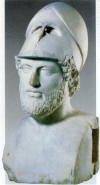 Do you know Pericles? He was the Greek dude with the funny hat. Supposedly they sculptured / painted him like this because he was extremely well respected, but he had an absurdly large head, so this way they could be very respectful and hide it. At any rate, there are quite a few of them here, of course I was never fast enough with the camera. See, it's probably law to wear a motorcycle helmet, but in the heat (of air, of traffic, one's own body) wearing a helmet may be undesired, so many riders just put the helmet onto their head, with the visor pointing into the sky. Just like Pericles. Of course in case of accident such a helmet will likely pose more threat to innocent bystanders than protection for the rider, but just like with blue bulbs in the fog lights of so many rice rockets, that's not relevant.

Finally, we were here, at the national airport (AEP), still about 4 hours before departure. This was thanks to a creative booking: at the time we booked this trip (July 2003) there was a flight with only a 3 hour layover. However, as time goes by, airlines change schedules. So instead of a non-stop flight we got booked on a 1-stop flight 3 hours later, making our trip 4 hours longer. So first order of business we got rid of our bags and started looking for food. Once food was found we noticed that we weren't actually hungry yet, so instead we found a cafe with a power outlet where Essan and the Powerbook had some juice and I had a 7-up.

Eventually it was time to proceed to the gate. Security was a bit different here than in the US: nobody wanted to see our ticket or ID, and I was looked at rather strangely when I took out my two Powerbooks out of the bag. Similarly, boarding was even more disorganized than say Swissair's or Southwest's: "welcome to flight 1810, please board" was the only message we got to hear. So everyone boarded, including a few people clearly belonging to our boat to Antarctica. Once on board a very nice thunderstorm rolled over Buenos Aires, creating quite a spectacle of lightning, thunder and downpour - all of which was an amazing sight for us deprived Bay Area residents. The first leg of our flight took us to Trelew, a little oasis-like town in the middle of the prairie. During this 90 minute flight we were served food like American airlines (and I don't mean AA but rather the US variety) don't serve even on a cross-country flight - wine included. This way Essan was once again reminded that Her People don't have the enzyme that helps with alcohol consumption nor does she have the required body mass. In Trelew the set of people changed a bit, mainly adding more Patagonia explorers heading further south.
The approach to Ushuaia was very impressive, showing the Andean mountains falling into the sea: it was very reminiscent of Norway in many ways. The luggage handlers in Ushuaia were of the relaxed kind, and literally 30 minutes after our arrival the bags showed up on the conveyor belt which has seen better days. We were greeted by the tour company and transferred to the hotel. The guide on the bus spoke perfect English, exactly the way I don't speak Spanish, and explained the events of the next 24 hours. Among others she mentioned at least five times that she needs to collect the passports and the return airline tickets for confirmation, and that we need to write down the passport numbers because it will be required in our Ushuaia hotels. Five times. At least. Even I got it, sitting in the back. Yet there were some people, seated in the 2nd row, who acted very surprised when they were explicitly asked later on if they took note of the passport number. Please! Needless to say the guide was very pleased and rewarded me with a very cute smile when she came to us and I handed her our two passport, return airline tickets, plus US$40 for the excursion to the National Park the next morning for which we just spontaneously registered.

Our hotel room was small like a Stanford single yet somehow they managed to put three beds in there. Also, as Mick Dundee so eloquently put it, some goofball put two toilets in the bathroom, which was a first. With Essan's stomach empty, not surprising since it was almost 10pm already, we quickly left looking for food, which we found in one of the many nearby restaurants. I got the mandatory Argentinean beef, guaranteed BSE free (and what if?), with some "smashed potatoes" which indeed looked as if someone had thrown a potato against the wall and scooped up the result. Essan had her mandatory fish, of course. But what's more important than the food is the waitress, or let's put it bluntly, Argentinean chicks in general: even Essan pointed out to me that the chicks here are hot. All feminists, please listen away, but guys, especially you starved silicon valley engineers, listen up: if you are into the Penelope Cruz look, jet down here. They are all over the place here, and I am sure that one or the other would be willing to be rescued from the beautiful fjord-land here in Ushuaia. As Essan put it, this is like brunette Sweden. I say, this is better than that =)

Back at the hotel we re-packed our bags in a more space efficient way and took a well deserved shower. The level of filth that has built up on us over the past 27 hours was remarkable and clearly documented by the bathtub because of its severe drainage problems. Our socks got an emergency wash as well, and around midnight we went to bed - which doesn't mean much as the person next door down was snoring like a wooly mammoth and the one next door up was watching soccer the way Argentina is famous for.